Sibley County Minnesota
This website is available for adoption.
If you are interested, please contact
Shirley Cullum
---

If you have submitted a query in the past and it is has not been posted, PLEASE resubmit your queries.
E-mail Subject Line: With the increase of virus infected e-mail and high volume of SPAM (junk mail), entering "Sibley County" somewhere in your e-mail subject will help me decide if I should open your e-mail message. I also host other web sites and will not know which web site your are referring to if you don't. This also applies when writing to other volunteers and researchers listed on these pages. Send no graphics or attachments unless well known to me or the recipient.

Some older e-mail addresses and web links are obsolete! I have no way of updating these addresses unless YOU send us me a current email address. the updates.
---
|
Sibley Links
|
Sibley Resources and Lookups
|
Sibley Queries
|
Sibley Surnames
|
MNGenWeb County List
---
"Seven Step Program (now Nine)" for Sibley County Research
Nine Step Research Program - Jane's Sibley Co. Nine Step Research Program. This is where to your Sibley Co. research.
---
Sibley County Statistics:
Population 1860: 3,609 | 1870: 7,431 | 1880: 10,637 | 1900: 16,862 | 1920: 15,635 | 1940: 16,625 | 1980: 15,448 | 1990: 14,335
County Seat: Gaylord
Townships (map): 17 (Grafton, Moltke, Severance, Bismark, Cornish, Transit, Alfsborg, New Auburn, Dryden, Sibley, Green Isle, Arlington, Kelso, Washington Lake, Jessenland, Henderson, Faxon).
Towns: 7 (Gibbon, Winthrop, Gaylord, Arlington, New Auburn, Green Isle, Henderson).
Ghost towns: Johnstown, Faxon, Doheny's Landing, North Henderson, Deerfield (Rush River), Kelso (Hartford or Freemont), Eagle City, Mountville and Prairie Mound (New Rome), Brack (Grafton Township), High Island (New Auburn).
---
Sibley County Resources:
---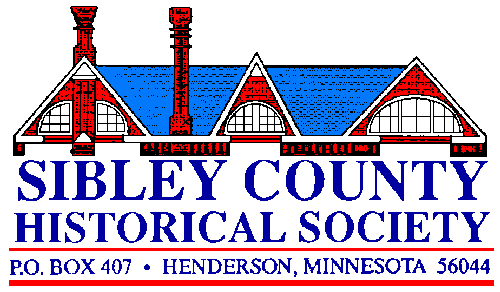 Sibley Co. Historical Society, PO Box 407, 700 Main Street, Henderson MN 56044. Hours: 2 - 5 p.m. Sun., last Sunday in May to last Sunday in October. Offering a growing collection of donated family history books. The microfilm collection includes the Sibley County Independent, Henderson Independent, Minnesota State Census for 1857, 1865, 1875, 1885, 1895 and 1905.
---
Sibley County Courthouse, Sibley County Recorder's Office, 400 Court Street, Gaylord, MN 55334-0044. Phone: (507) 237-5526.

You can request birth, marriage and death records from the Sibley Co. Recorders Office. If you need copies of vitals information you may request them, they will check their records, mail you back as to the fees, and when they receive the fees they will mail out the copies, etc. as requested. When visiting the Sibley County Recorder's Office, don't forget to sign in or check the "genealogy guest book".
County Courthouse (Recorders Office) Vital Records
Birth Records, 1870 - present, indexed
Death records, 1870 - present, indexed
Marriage records, 1865 - present, male and female index
Deeds records, 1857

Court Administrator
E-mail: Karen Messner
Minimum Search $5.00 per name plus $5.00 per document:
Probate records, 1895 - present
Wills, 1903
---
Winthrop Historical Society - c/o President Sam Shult, Rural Route 2, Winthrop, MN 55396. Phone: (507) 647-2295
Southern Minnesota Historical Center - Mankato State University, William Lass -Director, Mankato, MN 56001, (507) 389-1029 (Center)
Local Libraries: MnLink Minnesota Public Library System (select Traverse des Sioux Library System)

Arlington Branch Library, 321 W Main Street, Arlington, MN 55307. Phone: (507) 964-2490
Gaylord Public Library, 332 Main Avenue, Gaylord, MN 55334-0797. Phone: (507) 237-2280
Gibbon Public Library, 100 Park Drive, Gibbon, MN 55335. Phone: (507) 834-6551
Henderson Public Library, 110 South 6th Street, Henderson, MN 56044. Phone: (507) 248-3880 (When visiting the Henderson Public Library, don't forget to sign in or check the "genealogy guest book").
Winthrop Public Library, 203 N Main Street, Winthrop, MN 55396. Phone: (507) 647-5308
Minnesota LDS Family History Centers: (Church of Jesus Christ of Latter-day Saints) Minnesota LDS Research Outline- FTP site.

BEMIDJI 3033 Birchmont Drive Tel. (218) 751-9129
BLOOMINGTON 9700 Nesbitt Ave. So. (612) 835-0053
BROOKLYN PARK 4700 Edinbrook Parkway Tel. (612) 425-1865
DULUTH 521 Upham Road, Duluth, Tel. (218) 722-9508
MANKATO 1851 Marie Ln, North Mankato, MN 56003 Tel. (507) 625-8342
MINNEAPOLIS 2801 North Douglas Drive Tel. (612) 544-2479
ROCHESTER 2300 Viola Heights Drive NE Tel. (507) 281-6641
ST. PAUL 2200 North Hadley Tel. (612) 770-3213
---
Sibley County Internet Links:
Neighboring MNGenWeb Counties: |Carver|Le Sueur | McLeod|Nicollet|Renville|Scott|(or select from above map)
Other Minnesota links:
Index to Minnesota Vital Records Offices: Vital Records information for Minnesota.
MHS Death Certificate Index Search: Minnesota Historical Society hosts this online index of death certificates to improve access to this popular and useful resource for genealogical and family history research. Currently, the database indexes the years from 1907 through 1996.
Other Genealogy links:
SEARCH FOR ANCESTORS: LDS Family History Center SEARCH FOR ANCESTORS.
---
Books and Lookups: Available books about Sibley County, its towns and history and were to find them.
Newspapers: Sibley County newspaper archives and were to find them.
Church Records: Listing of Church records of Sibley County available through the LDS Family History Centers.
Century Farms: List of Century Farms of Sibley County and when they were founded.
Winthrop High: A list of Graduating names of Winthrop High School (1903 - 1950).
We need volunteers for lookups in Sibley County.
---
In March and April, 1996, a group of genealogists organized the Kentucky Comprehensive Genealogy Database. The idea was to provide a single entry point for all counties in Kentucky, where collected databases would be stored. In addition, the databases would be indexed and cross-linked, so that even if an individual were found in more than one county, they could be located in the index. This lead to the USGenWeb project of which Minnesota is a part.
Volunteers are needed who are willing to coordinate the collection of databases and generally oversee the contents of the web page. If you would like to host a Minnesota county, contact the Minnesota state coordinator.
---
You are the 95846- visitor since Feb 5, 1997 -- Thanks for stopping by!
Copyright 2015 by Sibley County Coordinators for the MNGenWeb Project
This page was last updated on Tuesday, 29-Sep-2015 00:36:43 MDT.